2D Barcode Authentication
The SolidPass 2D barcode reader (QRCode) allows you to read transaction data through the camera of mobile phones.
A picture of the bar code will be taken by the camera and its contents will be presented on the mobile's screen so the user can confirm and validate the transaction data.
This will generate an electronic signature that will guarantee the non-repudiation of the transaction, and make it difficult for someone to tamper with the transaction data.
This method of authentication can be used for both secure logins through authentication response and also for transaction data signing.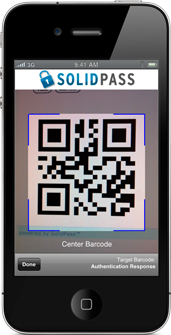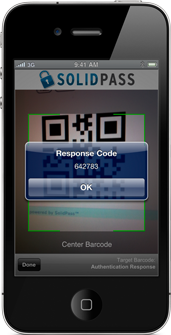 Mobile Soft Token Convenience
The key advantage of the SolidPass mobile soft token is that there are no new devices or wallet-fillers for customers – just an add-on to the device they already carry everywhere. Since customers already own the "hardware" (the mobile phone), SolidPass can be provided and managed at a fraction of the true cost (TCO) of a hardware token solution. Soft security tokens have the added advantage of being able to be distributed immediately and without logistical planning. An added benefit from a reissuing and logistical perspective is that soft tokens do not expire. This helps reduce customer dissatisfaction. Users are also more likely to recognize the loss of their mobile phone before they recognize the loss of a hardware token. This means that they are also more likely to recover a misplaced mobile phone before finding a lost hardware token. As a result mobile phones have become a more reliable deployment method than hardware tokens.
Provisioning of Mobile Token
The application can be provisioned in a number of ways include OTA (Over-the-air), Bluetooth, Wap Push, download, SMS request from a short-code or a long number or from an SMS push from a web interface or a URL from a WAP or mobile Internet portal or from a relevant applications store.
Strong Two-Factor Authentication (2FA)
The following strong authentication methods are supported in the mobile token:
Event-based One-Time Password (OTP)
Time-based One-Time Password (OTP)
Security Question
Challenge Response
Transaction Data Signing (TDS)
Mutual Authentication
SolidPass mobile security token can be used to prevent the following :
Phishing Attacks
Pharming Attacks
Man-In-The-Middle Attacks
DNS Cache Poisoning Attacks
Trojans Attacks
Man-In-The-Phone Attacks
Browser Poisoning Attacks
Embedded Token
SolidPass can be embedded in any number of mobile apps such as mobile banking that would require strong two-factor authentication and security.
H3 Environmental Footprint
Hardware tokens have a limited life span. After their obsolescence, they have to be discarded and new ones have to be issued. By contrast, mobile security tokens are a virtual product using existing hardware, thus minimizing negative externalities.