Desktop Security Token
SolidPass provides vital security for transactions from a desktop.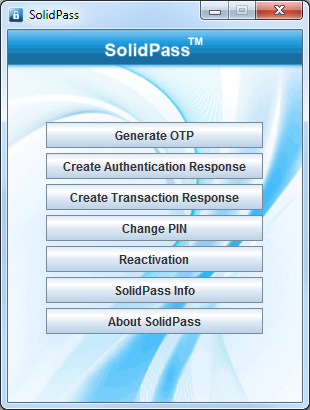 SolidPass Desktop Security Tokens provide security using authentication methods including:
Event and time based OTP
Security questions
Challenge-Response
Transaction data signing
Mutual authentication
SolidPass combines quality 2FA security with an intuitive interface to make the desktop safer.
Supported Platforms
SolidPass can provide security to a user on several platforms
Windows
Mac
Linux
Toolbar Token for browsers
SolidPass' desktop security tokens protect vital information against a wide variety of attacks on a wide variety of platforms.
Environmental Footprint
Hardware tokens have a limited life span. After their obsolescence, they have to be discarded and new ones have to be issued. By contrast, software tokens are a virtual product using existing hardware, thus mitigating negative externalities.